The Erotic Psyche and Purposeful Adult Playdates
What if we explored sex as the playground in which we process all that it means to be human? Both the challenging aspects of life as well as the sublime…
Join Artemisia de Vine in The deVinery to learn about the psychology behind what turns us on and how to use it in ways that positively impact more levels of ourselves, in Purposeful Adult Playdates.
Find out about practical, pleasurable and transformative approaches that lead to deeper relating with yourself, each other and Life itself.
Online sexual self-discovery in the privacy of your own home.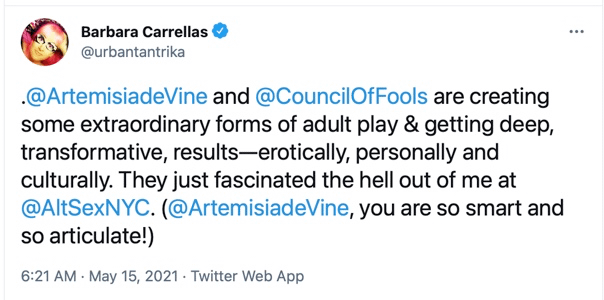 Note: @CouncilofFools and I presented at a New York AltSex conference together but have different bodies of work. 
What is The deVinery?
The deVinery is a member's only fortnightly newsletter loaded with goodies for those interested in self-discovery through the lens of the sexual.
You also get to pick my brains about your particular playdate scenarios and turn-ons in regular live zooms with other members as well as priority access to upcoming events and offerings.
The newsletter is where I share what I know about the psychology behind what turns us on and how that is an avenue that leads to wholeness.
Each newsletter will be different but can include stories, a members-only podcast, insights and exercises you can try for yourself.
If you are interested in creating an active relationship with your own source of eros and crafting sexual experiences that harness more levels of yourself, and your sexual partner/s, then you are in the right place!
"Artemisia, you are a walking university!" – Betty Martin, creator of Wheel of Consent and School of Consent
What it is like to learn from Artemisia?
"Artemisia has a revolutionary gift to give the world and I feel so grateful to have found her.
I'd been searching for support with accessing my sexual freedom and pleasure for decades… and my work with Artemisia is finally answering that longing. YES!
She works on a fundamental level, safely and steadfastly promoting your own direct access to your living, personal desire, with masterful skill and insight. Those words don't capture the potency of the process – it's nothing short of transformative, like being given a key to access the full potential of being alive.
This process of harnessing one's authentic, actual relationship to desire is akin the original discovery of fire – it's life changing – and I can perceive how my own personal work with desire is culture changing, as well. Like I said, her work is revolutionary.
–
Lindsay Sworski, LMT
Culture Creations & Embodiment Experimentations
The story of The deVinery
The deVinery was once my lush erotic play space where I created tailored sexual experiences for thousands of clients as a (now retired) sex worker.
It was my temple to the erotic and included sensual spaces and a tailor-made dungeon for BDSM.
I learned to trust the turn-ons of each person I played with and discovered that extraordinary things happened when I did.
"Artemisia saw me, and heard me, in a way that is hard to describe, and she used what she saw and heard to create an experience that I wouldn't have known to ask for but was exactly what I needed. She is truly expert at the skills of her craft."
– Stanley SW client UK
I then developed a method of designing sexual play that tapped into the unique erotic wiring of my clients on purpose, to great effect! From the sensually intimate to the kinky and everything in between…
What I learned through years of intimate sexual choreography was that we are each erotically unique, like a fingerprint, but there are recognizable elements we can learn to intentionally play with and when we do, they act like a map that leads us to:
Greater sexual pleasure and fulfillment.

Deeper relating with each other.

Alignment with unconscious levels of our own psyche.

Access to a variety of erotic states of consciousness including, but not limited to, the transcendent.

An avenue with which to explore all that it means to be human in a complex world through play. 
In short, playing on purpose leads us home to our whole selves.
Now The deVinery has moved online and you can learn about this for yourself.
The kinds of things explored in The deVinery
Here in The deVinery, you can hear about what used to only be accessed by underground traineeships amongst sex workers, adherents of spiritual sexuality traditions and professional dominatrices.
But more than that, you can learn about my personal system and approach to working out how a person is wired and playing with it on purpose.
After all, I met with thousands of strangers and needed to figure them out in order to create great sexual play. Would you like to know how to do that?
"Artemisia, I am just writing to you to thank you for the fantastic experience. Not only did I enjoy myself so very much, but I feel like I walked away feeling more connected with myself, knowing more about myself and generally having a slightly different outlook on day to day life. 
You are a true professional, no, artist. Thank you very much for being very understanding, kind and down to earth, especially when dealing with a nervous nelly / introvert like me." – Anonymous sex work client
Those of you who did the quiz to find out your Arousal Style, have already been introduced to the first key element I look at when working out a person's sexual patterning, but there is so much more!
I have spent 20 plus years immersing myself in the erotic arts in an extensive variety of roles (sensual, spiritual, kinky, and full BDSM… the lot!).
My approach gives you more confidence and satisfaction in the bedroom as well as more vibrant, connected relationships!
But it doesn't stop there!
Sex is not separate from the rest of us, so this approach naturally leads to the exploration of our human nature too.
It leads you to be in alignment with who you really are and to share that with others through adult play.
Who is membership for?
If you are excited about really discovering who you are through building a relationship with your sexual desires then come on in! The water is warm!
Membership is for any respectful adult, of any sexual orientation, who would like to be supported in their erotic self-discovery and is curious about what more is possible.
It is also great support for those who have already taken courses or who are engaging in private mentoring with me. Membership will give you foundation skills and keep you on track by encouraging ongoing experiments and playdates.
Finally, it is for sexuality professionals* who would like to add new tools and perspectives to their client sessions.
This includes sex educators, relationship and intimacy counsellors, somatic and talk-based sexologists and sex workers.
"Just finished another amazing lesson in mapping our erotic selves, taught by Artemisia de Vine. Her conceptualizations and teachings about kink and eros aren't next level – they're ten levels beyond that. I am blessed to call myself her student."

– Katherine Control, Seattle professional Dominatrix
Membership is not for those who seek to manipulate their way into the underwear of hotties.  Consent, integrity and respect are cornerstones of The deVinery and Purposeful Adult Playdates.
Please be aware that if you are triggered into harmful mental health episodes by discussions of sexual content including, but not limited to, sexual fantasies that explore the taboo, and consensual non-consent play, then the deVinery is not a safe enough place for you at this time.
Please note that I am not a sexual trauma therapist, or relationship counsellor, nor am I a dating coach. I am a desire and erotic psyche specialist who teaches how to design purposeful adult play. As a happy side effect of exploring my work, people often find that some of these other areas are positively affected too. 
*Content is copyright and cannot be duplicated or taught without my express permission but what you will learn here can be integrated into your own practices and support you in coming up with your own ways of sharing it with your clients. . 
Prefer to learn in private? Try personal mentoring for singles and partnered folk. 
I felt completely enthralled by all that we were learning and exploring. It resonated with me on a very deep level and I have experienced profound shifts in my relationship to desire.
I feel a real sense of excitement about now having this roadmap to continue building my relationship with desire and seeing where this leads me – I know that there is much richness, creativity and wholeness here.  
I truly believe the path to wholeness is in embracing all that we are, and this is very much the path I am on in life. Your work has been a pivotal point in this journey, enabling me to form a relationship with a part of me that I had banished to the shadows.
Now I feel how alive and rich that part is and what a source of power, truth and authenticity it is. I can really feel how different the world would be if we could all be in relationship with our desire, rather than banishing it, splitting ourselves and it then spilling out in unconscious ways with potentially harmful consequences